Do you like Japanese culture? If so you can art your body with a Japanese sleeve tattoo. Japanese tattoo represents different meaning which actually obtains from the Japanese traditional culture.
Usually, Japanese tattoos sleeve have a unique and particular aesthetic. This tattoo sleeve has some special elements which make Japanese sleeve tattoos visually stunning.
Also, See
Best Tattoo Artists in The World
History of Japanese Sleeve Tattoos
Basically, in ancient Japan tattoo mark was used as a punishment sign, but today that tattoo become a part of modern art. In point of fact, only just a few other cultures have a history of tattoo-like Japanese culture. Generally, tattoo culture in Japan become famous with their amazing tattoo artist.
Japan has a long history of their tattoos and history began around 10,000 BC. There was a time when the tattoo was worn by prisoners as a mark for a criminal. On that time people don't like to get a tattoo because the tattoo was used by Japanese's mafia. And not only tattoo worn for decorative and spiritual purposes but also used as a status symbol to identifying the master from the slave. But things changed gradually, an indigenous population of Japan, the Ainus, start to use tattoo on their mouth, arm and foreheads occasionally. Actually, Japanese tattoo activity influenced by them, because they have integrated with modern Japanese civilization.
Related – 150+ Best Leg Sleeve Tattoo Designs
Japanese Tattoos Designs
Japanese tattoo has an unmistakable and distinct look, which actually make the most popular and easily recognizable tattoos around the world.
In general Japanese tattoo designs have 2 forms
Traditional Japanese tattoo
Modern Japanese tattoo
The main difference between these 2 types of tattoo is the method used to apply in the tattoo.
Traditional Japanese tattoo

it is the most authentic form of Japanese tattoo. Actually, this tattooing is done by non-electrical tools which are used through hands. Where the tattoo artists insert the tattoo ink manually into the skin by using a special pencil-like tool. Usually, traditional Japanese tattoos need almost a year to complete. Especially designs on full-body take a long time. This tattoo also more expensive compared to normal tattoos.
Modern Japanese tattoo

generally, this tattooing is done by using a regular tattoo machine. A modern tattoo is cheaper and also need less time to finish.
Also, check
You could find different varieties in Japanese sleeve tattoos design. Among many designs, traditional Japanese tattoo sleeve is quite popular among people. And some most popular Japanese tattoo designs include dragons, geishas, tigers, samurai, koi and kabuki masks. Japanese cherry blossom is one of the popular traditional Japanese tattoo sleeves. Actually, cherry blossom and lotus are used as secondary designs to flank the main tattoo designs.
 Related – 200+ Sacred Heart Tattoo Designs
Basically, bigger Japanese tattoos look better than a smaller one. So you can choose a bigger design to look attractive. You will look best if you cover a large portion of your body and you may also go for a full-body tattoo.
Japanese Sleeve Tattoos Color
You may find different Japanese tattoos black and grey. There also many colorful tattoos available for you. You can also color your tattoo with full black and gray color. On the other hand, you can complement your central piece of a tattoo by a black and gray background in the form of wavy patterns or clouds.
Some designs of Japanese tattoo have a full black background which actually requires a painful amount of shading. If you want to highlight your central piece of tattoo then you can use the black and gray background, it really does a great job for highlighting.
 Related – 200+ Eye-Catching Cool Tattoo Ideas
Japanese Tattoo Meanings
Check out our list of Japanese tattoos meanings and choose the best meanings for your next tattoo.
Carp – It is also known as koi fish in Japan. In tattoo art, it stands for the symbol of strength, determination, and courage. It also represents persistence and self-improvement.
Also, See
Dragon – it represents wisdom, strength, and protection
Flower – In japan different flower has different unique meanings, such as
Rose use to symbolized love
Hibiscus represents gentleness etc
Phoenix – in tattoo art it is a popular symbol of victory and revival. This design often flaunts a bird with bright, a long tail and red plumage.
Fu-Dogs – It represents prosperity, guardianship, and success.
Ogre – It as known as oni, it uses to symbolize the devil's power to punish any evil or any act of injustice.
Skull – it represents death, change, life and reverence for the dead.
Snake – it uses used as a symbol of protection against illness and misfortune. It also represents a symbol of wisdom, strength, good luck and change.
Wave – it represents strength, life, movement, and fluidity.
Turtle – It symbolized for wisdom, luck, protection and longevity in the culture of Japanese.
Related – 2500+ Unique Tattoo Ideas with Meaning
Advantage and Disadvantage of Getting a Tattoo
Do you want to learn the details of tattoos advantage and disadvantage? Click here
How long do tattoos last before fading?
The answer to this question is depends on the tattoo healing process. So before getting your tattoo please take a look on the following topic
Related – 150+ Tribal Tattoo Designs
Japanese Tattoos for Men
Check out the best Japanese Tattoos for Men.
Also, check
Japanese Tattoos for Women
Here are the best Japanese tattoos for women. Choose your next designs from here.
Now let us bot entertain you with our amazing list of the world best Japanese tattoos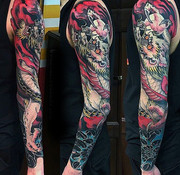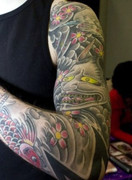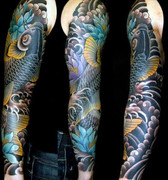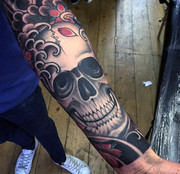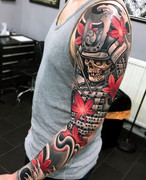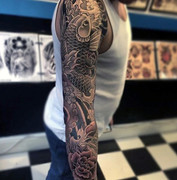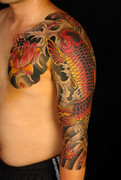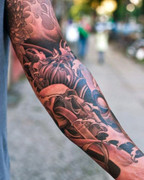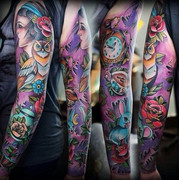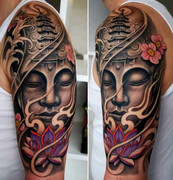 Images Sources: postimages.org, Pinterest.com, Google.com 
Conclusion
If you are thinking about getting a tattoo then you don't need to travel to Japan to find your tattoo artist. Because around the world, there are many tattoo artists who are especially expert in Japanese sleeve tattoo designs.
If you like our article, to get more update please like our Facebook Page and Pinterest Board. Add you can also be a member of our Facebook Group.